Ria Miller 1 Cover Reveal
It's finally here!
It's finally here!
Today's is a day that I've been working toward for such a very long time, and I can't believe how excited I am. Today's the day I finally get the pull the wraps off my next series: Ria Miller and the Monsters.
This is a contemporary urban fantasy series set in New York City that follows Ria Miller, a feisty, foul-mouthed, kick-ass seventeen-year-old girl, as she and her parents hunt monsters and ghosts that would otherwise snack on ordinary people. Each book has thrilling action and a boatload of humor. Basically, imagine Buffy the Vampire Slayer or Supernatural mixed with Modern Family or Family Matters.
Okay, enough talk! Here's the cover and the blurb for book 1: Ria's Web of Lies, which you can pre-order now at the Kindle and Kobo stores.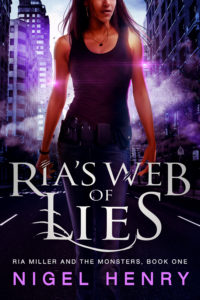 My name is Ria Miller. I'm just your average seventeen-year-old New York City high school senior, except for one little detail: my parents and I hunt monsters.
We take the cases the police don't believe, and we're the ones who keep you alive when the things that go bump in the night get hungry.
Kids at a high school for gifted students are vanishing, and the cops are stumped. The only way to find out what's behind the disappearances is for someone to go undercover as a new student. Guess who my parents volunteered for the job?
Now I've got to survive a new school and figure out who is taking students before they strike again.
Jealous ex-boyfriend? Principal? Jerky popular girl?  Someone in this building is lying, and I'm going to find them.
But whoever — or whatever — is behind the disappearances is willing to kill to keep their secret. If I'm not careful, I might be the next victim.
---
Ahh! I'm so excited!
Ria's Web of Lies will be available for purchase from the Kindle, Nook, iBooks, and Kobo stores on Sunday, June 11. Those of you on my newsletter will be getting a bunch of bonus content between now and then, including sample chapters and a chance to get your hands on the book before anyone else. So if you haven't signed up for my newsletter, here's the link.
June 11 can't come soon enough. I can't wait for you to meet Ria and follow her first adventure!